Beatrice Gibson Nangala


Born: 1960
Region: Laramba-Northern Territory
Language: Anmatyerre
Beatrice Gibson Nangala was born on Mt Doreen station, located about 400 kilometers North West of Alice Springs, in the Northern Territory about 1960.
The birth date is unknown because Aboriginal mothers did not deliver their babies in the hospitals but delivered them wherever the were at the time not recording the date as the calendar day means little to Aboriginal people.
Beatrice commenced her painting in 1986 and depicts Kangaroo, Dingo and Emu Dreamings, from her country which lies on Napperby Station in Central Australia, northwest of Alice Springs.
The Kangaroo is found only in Australia it is the iconic symbol of the country and in the desert are mainly reds and grays.
A https://personally-selected-aboriginal-art.com.au/australian-aboriginal-culture-mean is a native wild dog which is red brown and the emu is a large flightless bird white gray and black in color similar to an ostrich which lays eggs which contains about a kilo of egg yoke.
The Aboriginal men track and hunt the emu and it is a stable food source and the oil is used as an anti-inflammatory agent and its feathers are used in ceremonies by the men.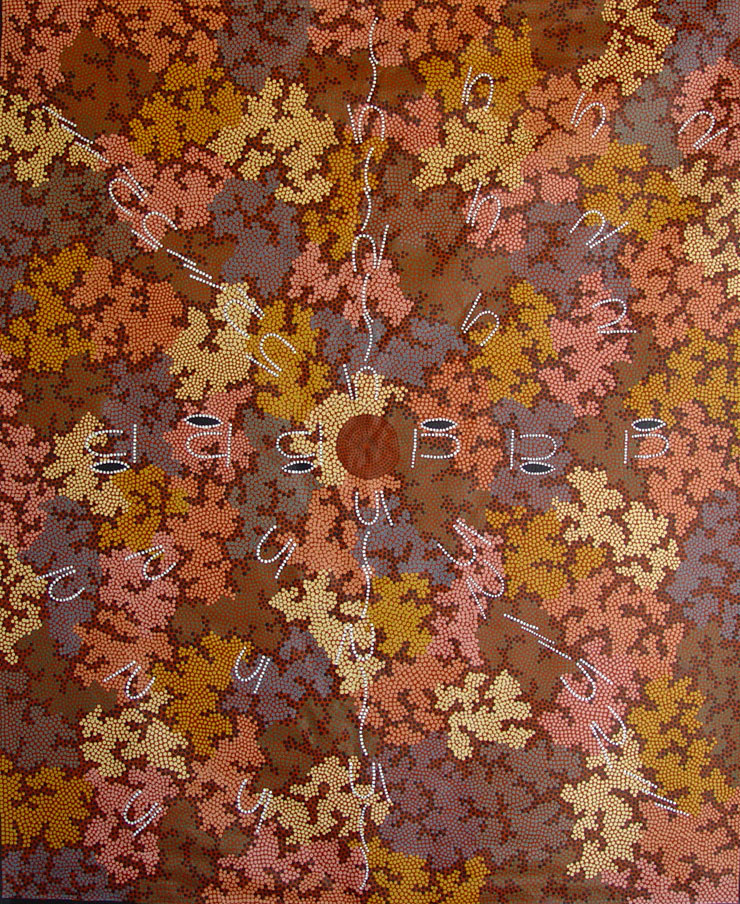 Living in the Laramba a community area excised from Napperby Station which contains a school and new health clinic.
She paints with other community members who also collect seeds and nuts to make jewelry with for eventual resale in various galleries.She paints in the traditional aboriginal style of the desert aboriginals using dots and symbols primarily with great earthy tones on canvas in acrylics.
Beatrice Gibson Nangala and her sisters are artists and they often sit together to paint with other women of the community.
Sharing their stories teaching their children and grandchildren through painting the stories of their culture while also singing the specific songs related to their paintings.