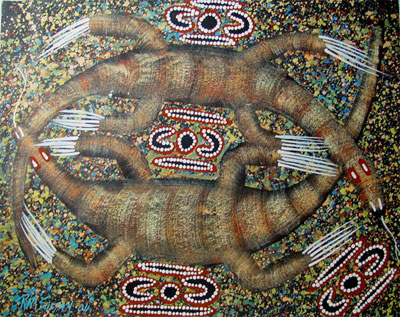 The Goanna Lizard also know the Monitor or Perente is the largest lizard native to Australia it is found in the arid areas of the country.
It can grow to a length of 1.75 to 2.4 meters and weight of 15 to 20 kilograms.
They have powerful legs with 5 long claws, long neck and strong tail.
It is able to run fast over short distances and climb trees, it uses its claws to dig for food and to dig burrows for shelter and to hibernate in the cooler months.
They eat small mammals, insects, birds, birds eggs, they have been know to kill and eat a small kangaroo.
The female lays 6 to 12 eggs in termite mounds and the activity of the insects provides warmth for her eggs.
The eggs hatch about 3 months later and break out of the mound but have the benefit of food in the form of termites close at hand.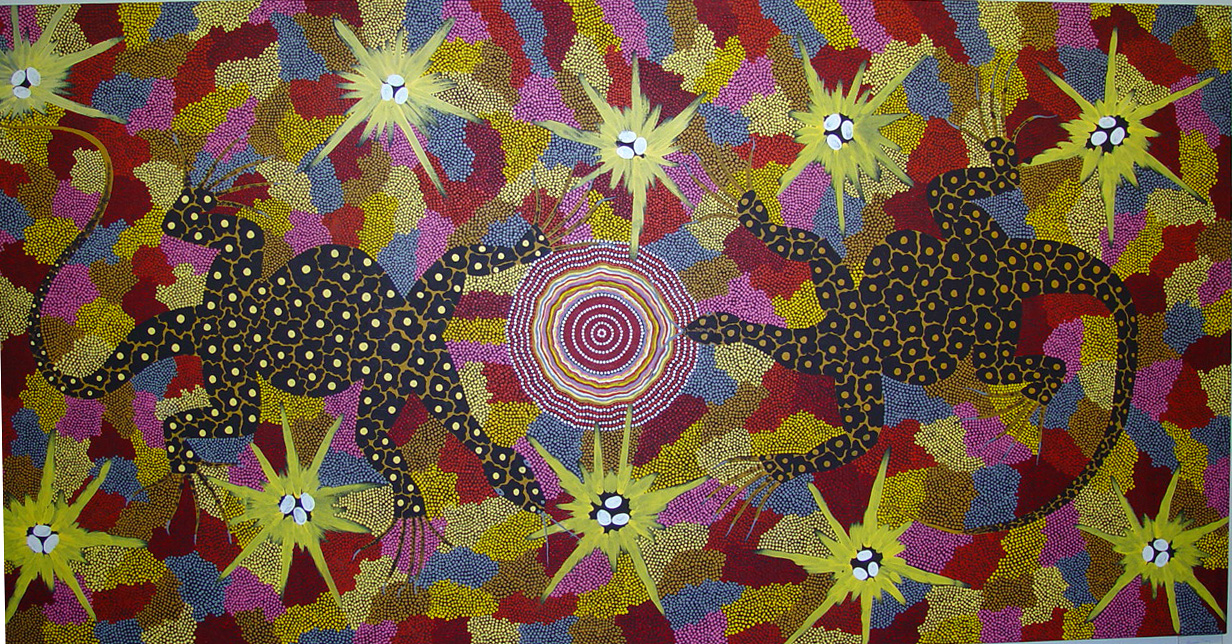 This lizard is a significant totem animal and Dreaming story of the Desert Aboriginals.
There are many Aboriginal artworks depicting the Goanna. It has also long been a source of "bush tucker" for the desert aboriginals they will dig the lizard out of its burrow kill it by hitting it on the head and then gut it and throw it onto a bed of charcoal to cook.
We have often taken lizards we have accidently hit whilst driving on the outback roads into the communities and given them to the women to cook.
However, we did once have one nasty surprise when we opened the boot of the car only to find the lizard we thought was dead to be very much alive and that situation had to be quickly remedied.