Isobel Hagan Nungarrayi


Born: 23March 1961
Region: Yuelamu (Mt Allan) -NorthernTerritory
Language: Anmatyerre
Isobel Hagan Nungarrayi is the daughter of Immanuel Rutjinama Tjapaltjarri (dec) who was ordained at the Hermannsburg Mission as a Lutheran pastor.
Most of the Aboriginal communities in the Northern Territory were started as missions by a variety of religious faiths.
The missions were often set up to protect the Aboriginals who were being pushed off their land by the settlers who were taking the lands to use as cattle stations.
See attitudes to land use as Terra Nullis, and Mabo.
Most of the missions were disbanded in the 60s. However, in some Aboriginal communities the churches still retain a presence.
There is still a lot of debate as to the detrimental effects of the mission system on the aboriginal culture.
Some say it protected a race that was in danger of being wiped out an others that it destroyed their culture and contributed to much of the problems facing the Aboriginal people today.
Hermannsburg was also the home of Albert Namiitjrra who was famous for his water color paintings of the desert landscape.
He was also one of the first Aboriginal Artists to be recgonized for his artistic talent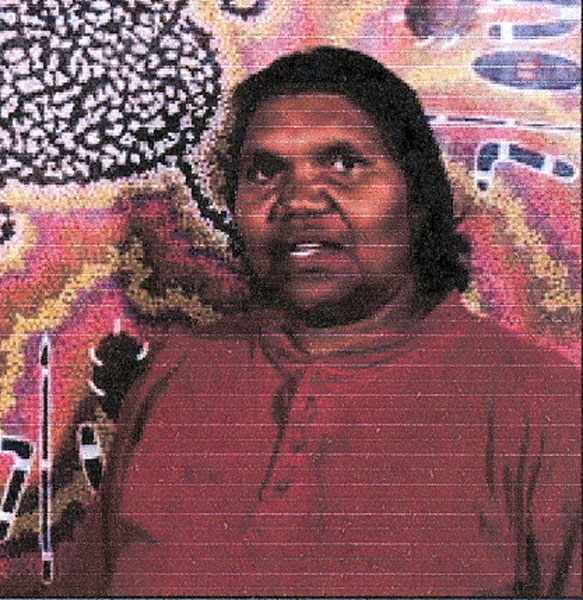 Isobels uncle was Clifford Possum Tjapaltjarri (dec) a very well known artist.
Isobel's family includes other talented painters Gabrielle Possum Nungarrayi and Michelle Possum Nungarrayi and her uncles Tim Leura Tjapaltjarri and Cassidy Tjapaltjarri (both dec).
Tim Leura and Clifford Possum Tjapaltjarri were among the initial Papunya Artists involved in the beginnings of the Aboriginal Art movement there in the early 1970s.
Papunya is around 100 ks from Yuelamu and some of the artists from Papunya moved between the two communities.
The painting movement spread to their family members there where Isobel commenced painting in 1982.
She depicts in her art the stories associated with the Yuelamu area including Goanna and Bush Foods.
In her painting she uses similar colours to her famous uncle Clifford Possum Tjapatjarri.
Isobel Hagan Nungarrayi continues to live at the Yuelemu community and is a very active member of the Yuelamu community and served as President of the Community's Council.
Aboriginal Artists Dictionary of Biographies