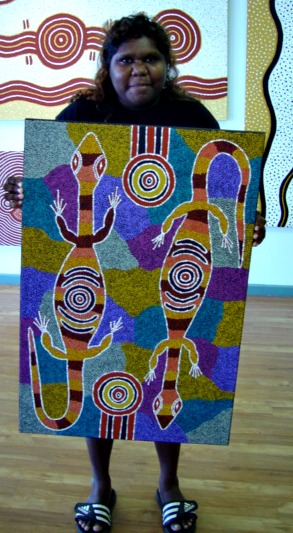 Area: Tennant Creek/ Alice Springs
Language: Alaywarra
Jacinta Numina Waugh was born on Stirling Station a cattle property near Tennant Creek and grew up in that area.
She is a member of a family of gifted artists, her aunts Gloria and Kathleen Petyerre are noted artists and she along with her sisters was taught to paint by them.
Jacinta now lives in Darwin where she and her sisters Cindy, Sharon, Lanita, Caroline and Louise who are also Artists and are becoming known for their bright and innovative works.
Jacinta received training at Nungalinya College in Darwin and Charles Darwin University where she received a degree in Fine Arts.
She continues to be associated with Charles Darwin University producing a series of screen prints for the Universities Northern Editions Gallery and conducting workshops offered by the university.
Jacinta continues to be mentored by her Aunts and visits them often to continue to improve and develop her artistic technique.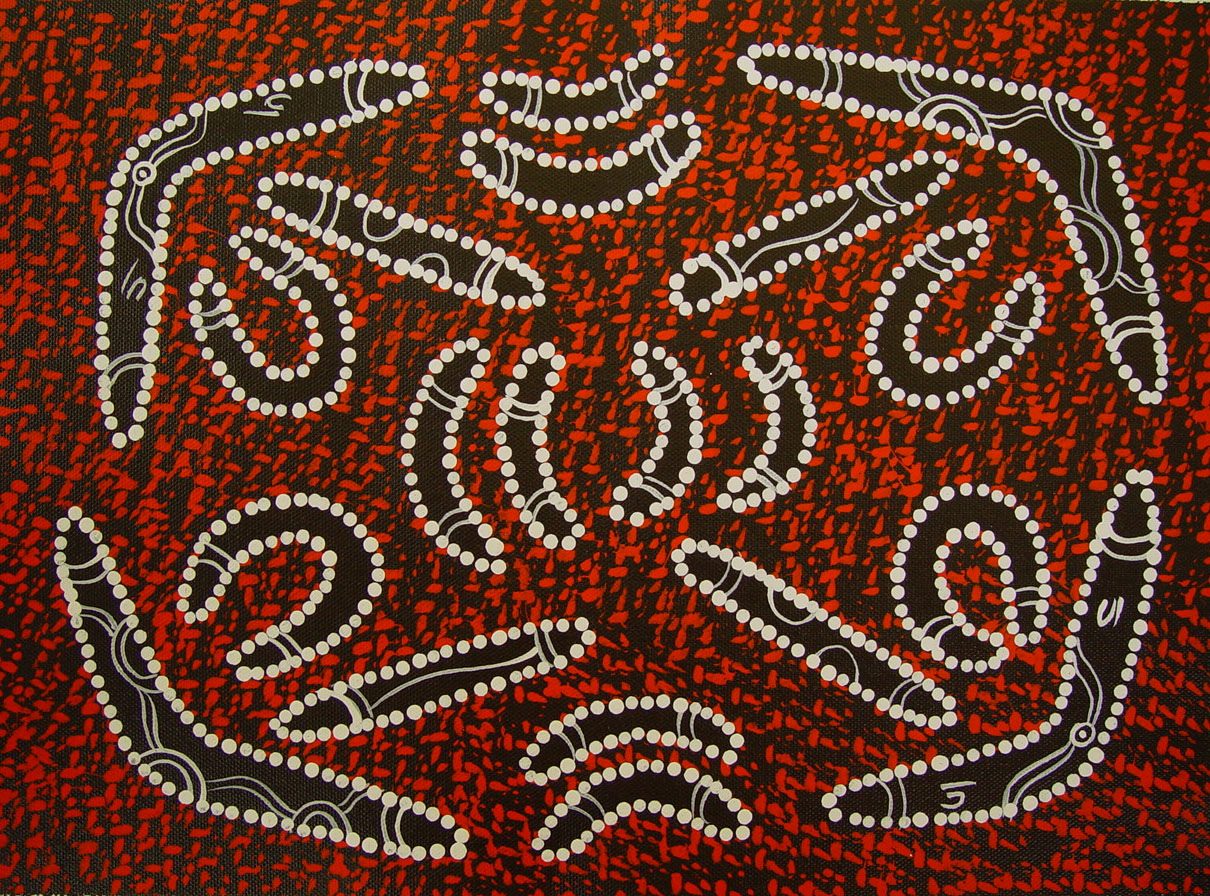 Australian fashion designer Peter Morrisey has used Jacintas designs in his 2000 collection and for the Oceania segment of the Opening Ceremony of the 2000 Olympic games.
Jacinta paints Bush Medicine Leaves, Women's Ceremony and Snake and Goanna Dreaming.
The Australian term the Bush refers to the countryside and areas outside the main metropolitan cities.The word Bush is used to describe activities related to rural living and activities such as going Bush, Bush clothing, Bushfire, Bush-ranger, Bush Poetry etc.Bush Medicine Leaves: the leaves of plants are collected and used for medicinal purposes they can be placed over a fire and the smoke inhaled, infused in hot water and drank, and made into a paste with fruit pulp or animal fat and rubbed on the body.Jacinta Numina Waugh's bright bush medicine leaf paintings depict the different combinations of leaves used.Women's Ceremony, Awelye, Body Art: women's business and body painting shows respect for country recalls ancestors and responsibility for well being of the community.The ceremonies are not done in the presence of men.The women paint their ceremony stories on their bodies using ochre, ash and charcoal.Jacinta uses traditional colors in her body painting series.