Lanita Numina
Area: Tennant Creek/ Alice Springs
Language: Alaywarra
Lanita Numina was born on Stirling Station a cattle property near Tennant Creek and grew up in that area.
She is a member of a family of gifted artists, her great aunt was Emily Kngwarreye one of the most noted Utopia artists, her aunts Gloria and Kathleen Petyerre area are also noted artists and she along with her sisters was taught to paint by them.
Lanita Numina now lives in Darwin and along with her sisters Cindy, Sharon, Caroline, Jacinta, and Louise who also paint are becoming known for their bright and innovative works.
Lanita continues to be mentored by her Aunts and visits them often to continue to improve and develop her artistic technique.
Lanita paints Bush Figs, Bush Potatoes, Bush Berries, Women's Dreaming and Honey Ant Dreaming
In Australia the Bush is any area outside of the city and the word Bush is used to describe any activity or lifestyle away from the city life.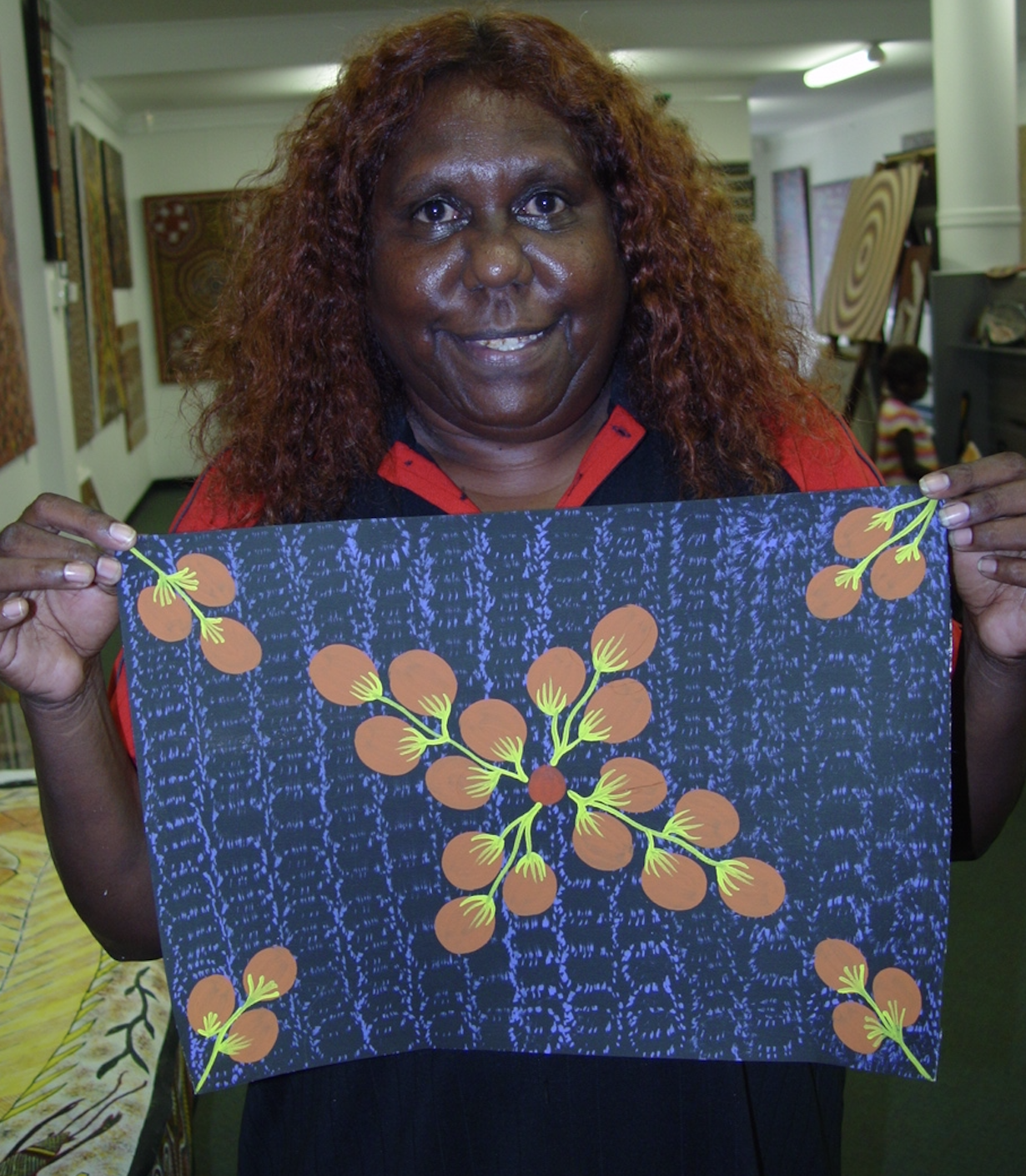 Bush Tucker describes the food collected by Aboriginal Women who use skills handed down for generations to find food in the desert.
Bush Figs: grow on a small bushy tree and the fruit can be eaten or ground up to a paste and left to dry.
The leaves of the tree are very rough and can be used as a kind of sand paper and sap from the tree is used on skin sores.
Bush Potatoes: grow on vines with a deep purple flower, the women look for cracks in the ground around the vines and use their digging sticks to dig the potatoes from the ground.
The potatoes are cooked in the coals or hot earth of a fire. They are a staple food for the Desert Aboriginal.
Bush Berries are picked after the rains and eaten raw.
Honey Ants: Store honey dew in their swollen abdomen the women use their digging sticks to dig up their nests and bite into the ants abdomen to suck the sweet honey nectar.
Women's Ceremony, Awelye, Body Art: Women's business and body painting shows respect for country, recalls ancestors and responsibility for well being of the community.
The ceremonies are not done in the presence of men.
The women paint their ceremony stories on their bodies using ochre, ash and charcoal. Lanita uses traditional colors in her body painting series